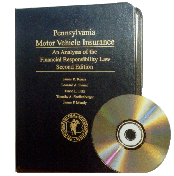 Member Price: $235 (plus shipping and tax)
Nonmember Price: $285 (plus shipping and tax)

Available Dec. 1, 2002

Over 600 pages, professional binder; PaTLA Pub. #269-2002; dimensions (in inches): 7.5 x 10 x 2.25
New Edition:
Auto Practitioners' Resource! Pennsylvania Motor Vehicle Insurance: An Analysis of the Financial Responsibility Law, New Edition with Bonus CD-ROM
by Ronca, Sloane, Lutz & Shollenberger
Edited by Bill Mabius, Esq.
New! 600-page authoritative treatise. Revised and updated chapters, expanded text and footnotes.
New! Bonus CD-ROM. Fully searchable text & links to all cases. Copy and paste text from the book into your word processing documents.
New! Hundred of new cases. From Common Pleas to U.S. Supreme Court. Also important memorandum decisions, laws, and regulations.
Comprehensive coverage. First-Party Issues, Recovery of Special Damages, Peer Review, Limited Tort Cases, Workers' Compensation (as it applies to Auto Law), Mandatory Offer Requirement, Subrogation, Set-Offs, Exclusions, Stacking Coverage, Assigned Claims Plan, Waivers & Rejections, Bad Faith Law: Issues & Case Law, UM/UIM Motorist Coverage.
Written by experts. Authors Ronca and Sloane have decades of combined legal experience in the filed of automobile law. This book is cited frequently by state federal and appellate courts.

To buy other PaTLA Books, click here.